Contact us
Send us an inquiry or find location information and contact details for our global offices and distributors.
For general webshop questions, please contact Stork Cooperheat:
Tel: +44 (0) 1704 215 600
For all other questions on Cooperheat products and services, please contact the Stork office in your region. You can find all locations below.
Cooperheat locations
Cooperheat Head office
United Kingdom
Tel: +44 (0) 1704 215 600
Fax: +44 (0) 1704 215 601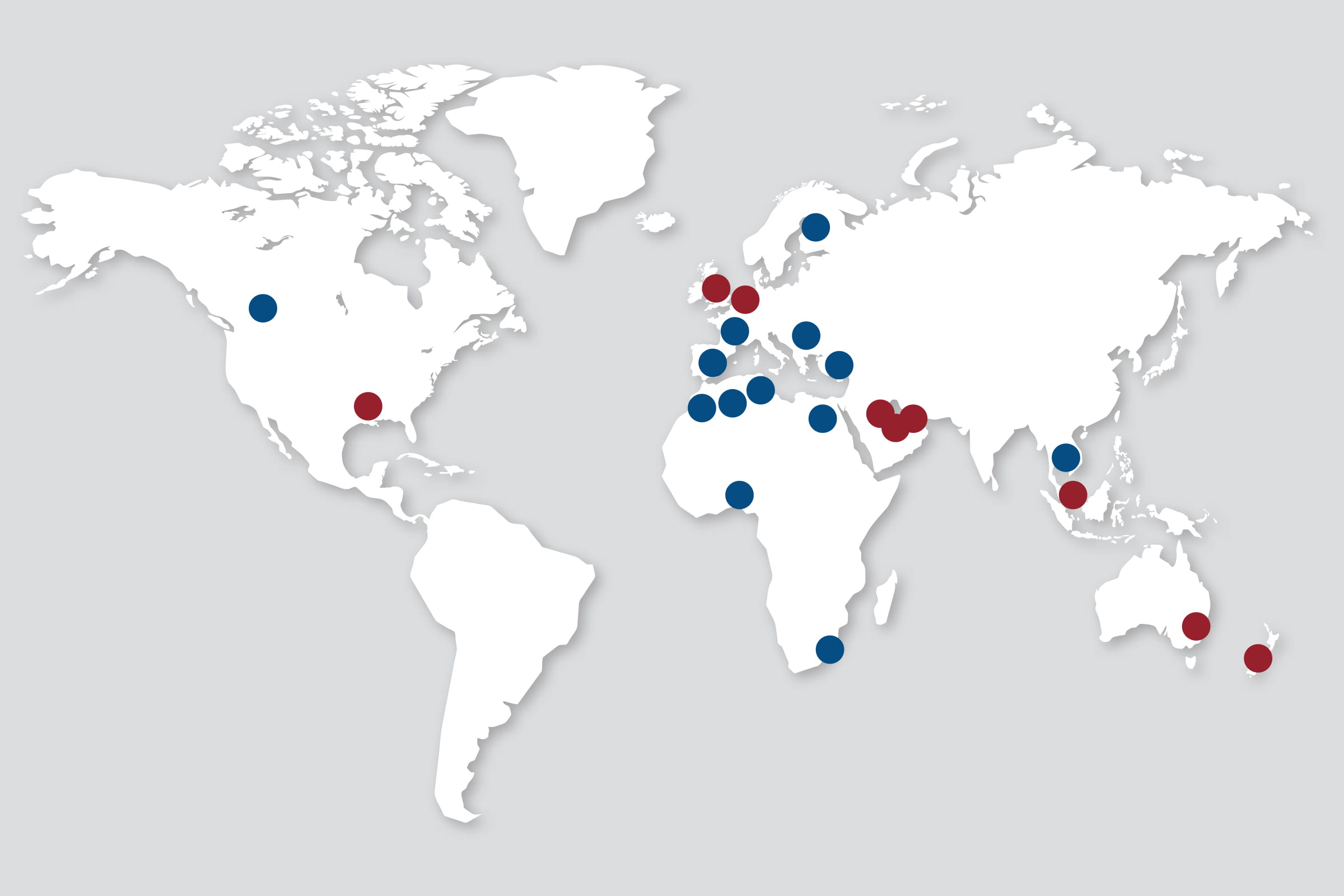 United States of America
Tel: +1 (281)279 1000
Fax: +1 (281) 313 9444
Netherlands
Tel: +31 (0)88 089 1240
Email: info@cooperheat.nl
UAE, Dubai
Tel: +971 (0)4 883 4370
Fax:+971 (0)4 883 4371
Saudi Arabia
Tel: +966 (0)3 341 0102
Fax: +966 (0)3 341 5170
Kuwait
Tel: +965 2 374 0172
Fax: +965 2 374 0173
Qatar
Tel: +974 (0)4 499 9817
Fax: +974 (0)4 487 9633
Australia & New Zealand
Tel: +61 (0) 8 9412 1100
Malaysia
Tel: +60 (0)3 334 88 280
Fax: +60 (0)3 336 11 250
Official distributors
Canada
Viaduct Trading
Tel: +1 (403) 998 1007
Fax: +1 (403) 715 7941
Email: carl@viaducttrading.com
Spain
Montajes Industriales EOS
Tel: +34 (9)1677 6517
Fax: +34 (9)1677 6729
Email: miesa@miesa.com
Finland
Finn Heat Ltd
Tel: +358 8 381 300
Fax: +358 8 381 777
Email: finnheat@finnheat.fi
Serbia
Veco Welding d.o.o.
Tel: +381 (0) 23 510 559
Fax: +381 (0) 23 510 174
Email: office@vecowelding.com
France, Algeria, Tunisia & Morocco
Canyon International Sprl
Tel: +32 (0) 19 325 973
Fax: +32 (0) 251 328 56
Email: sobelco@hotmail.com
Turkey
BMC Marine Mühendislik LTD ŞTİ
Tel: +90 (0)216 504 10 15
Email: info@bmcmarine.com
Web: www.bmcmarine.com
Teber Kalite - NTD Kaynak ve Isıl İşlem Sanayi TİC LTD ŞTİ
Tel/Fax: +90 (0)262 412 1960
Tel (Mobile): +90 (0)532 608 9044
Email: yaytac@teber.com.tr
Web: www.teber.com.tr
Nigeria
Special Piping Materials (Nig) Ltd
Tel: +234 (0) 8058834022
Fax: +234 (0) 254767250334
Email: enquiry@specialpipingltd.com
Egypt
OBBA
Tel. +20 2 25183752
Fax. +20 2 25184633
Email: omar@obbaegypt.net
South Africa & Sub Sahara
Total Heating Solutions cc
Tel: +27 31 912 2212
Fax: +27 31 912 2261
Email: totalheating@icon.co.za
Thailand
JST Heat Treatment Services
Tel: +66 90)2 3914580
Fax: +66 (0)2 391 3371
Email: jst@jst-group.com