12 November 2020
Geared up for the projects of tomorrow
Built on the strong legacy of Fluor's engineering, procurement & construction platform and Stork's complete asset lifecycle capabilities, Stork North America offers a broad range of services. This includes industrial operations and maintenance, small capital construction, turnarounds, specialty services, and asset management technologies for a robust cradle-to-grave management and implementation system in support of Client needs. With Clients in the down-, mid-, and upstream markets, power, heavy industrial manufacturing, consumer products & goods, and datacenter industries, Stork N.A. is poised to fill new and upcoming needs in emerging markets and support sustainability efforts in established industries.
Stork North America (Stork N.A.) has proven to be an instrumental asset for Clients seeking an agile, efficient, rapid-response solution, knowing when and how to draw upon Fluor's total technical and functional expertise on an on-demand basis.
One such emerging technology is the hyperloop, a new transportation mode, moving freight and people quickly and safely via a vehicle propelled by electric propulsion through a low-pressure tube. This hyperloop, an airtight vacuum propulsion concept, has come to be known as the 5th mode of transportation (adding to road, rail, water, and air transport). The fully autonomous vehicle uses magnetic levitation and glides at airline speeds for long distances due to ultra-low aerodynamic drag.
Hyperloop
Virgin Hyperloop (VH), a leader in this mode of transportation, plans to build hyperloop infrastructure on columns or in tunnels below ground, to avoid dangerous grade crossings and wildlife. Fluor has been Virgin Hyperloop's linear infrastructure execution partner since May 2018, collaborating on linear infrastructure engineering, installation tooling, construction methodology, and project execution.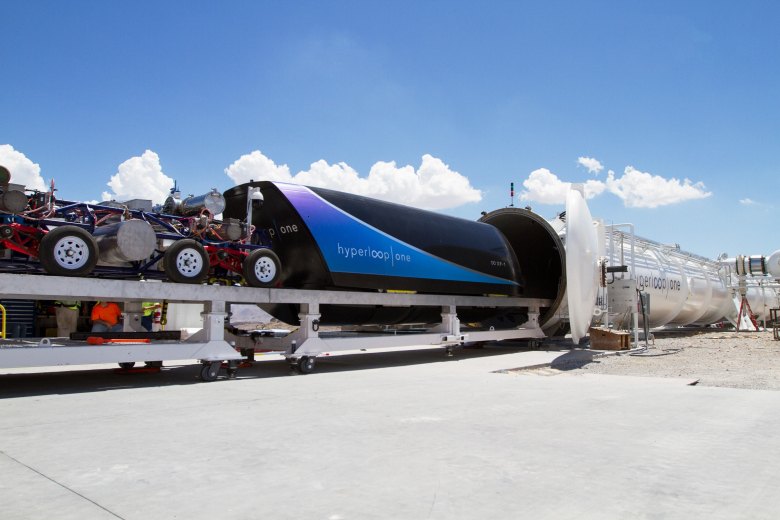 To develop and demonstrate Fluor's proposed methodology to achieve aerospace tolerances in a civil environment, Fluor called upon Stork N.A.'s self-perform construction team, who stepped up to the challenge and successfully completed the world's first-ever concrete hyperloop transportation tube-section in early 2020. As the prime contractor on the project, Stork N.A showcased what they do best – execute with cost and schedule certainty; provide nimble response time and engagement between the Client and self-perform crew, and deliver - and in this case, exceed - Client expectations under stringent aerospace installation and production rate criteria. Through the VH project and other unique efforts, Fluor's Business Incubation group and Clients have found Stork N.A to be an adept and agile partner in new markets, but it doesn't stop there.
Multi-faceted ways the service center can assist clients
Just recently, at a power plant in Texas, a Client encountered extensive issues with two of their Flender gearboxes, which operate in the cooling tower section of the plant as part of the cooling fan system. When asked to perform an engineering study and improve the gearboxes accordingly, the DFW team, along with Stork Gears & Services in Rotterdam (NL), was able to find a solution to the Client's gearbox problem and improved the gearbox to prevent future failures. This is just one example of the multi-faceted ways the service center can assist Clients. With an agile and adept workforce and in-house fabrication, repair, and specialty service capabilities, Stork N.A. is equipped to handle the projects of today. But, more importantly, we are prepared to support the projects of tomorrow in efficient and sustainable ways.
"With the vertical integration of in-house fabrication and self-perform construction, we are able to maximize control in project delivery and minimize risk for small-cap opportunities. This value proposition is particularly beneficial for our development efforts with emerging technology as we are helping our clients advance from bench test to pilot to commercial-scale implementation," says Jim Shih, Executive Director, Business Incubation.