2.0 MW Windturbine gearbox upgrade
Challenge
As an independent gearbox repair company Stork Gears & Services was approached by one of the world's largest windturbine manufacturers to help them resolve a reoccurring gearbox problem. The company had a large series of Metso PLH 1400, 2.0 MW gearboxes which were heavily leaking oil after only a few years of operation. One of the damaged gearbox was sent to Stork to have the failure analyzed.
Storks well equipped workshop took the gearbox apart and cleaned all the individual components. The engineering team took over and had all components nondestructively tested (NDT). The test results were alarming and indicated severe cracks in the casing of the gearbox (see picture below).
Solution
After the location of the failure was found, the engineers made a 3D computer model to simulate and analyze the deflection and stress in the casing. The model indicated high stress areas around the encountered cracks.

Stork Gears & Services used the data from the analysis to develop several concept upgrades on the gearbox. The concepts were then modeled and analyzed after which the best concept was worked out in detail. The definitive upgrade showed that the initial high stress areas were resolved.
Benefit
The upgrade was put into production and applied on the gearbox. Extensive testing followed showing impressive results. The customer was so pleased with the end result that they decided to have this upgrade carried out on a large range of their gearboxes.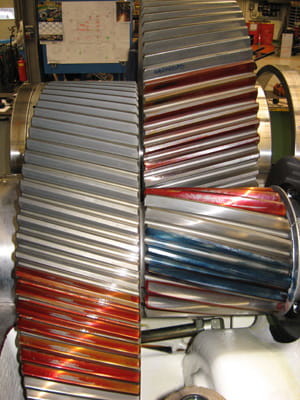 Location: Rotterdam, The Netherlands (In house upgrade and repair)
Market segment: Wind industry
Gearbox details: Metso PLH 1400, 2,0 MW
Scope of work:
• Disassembly, cleaning and inspection
• Root Cause Failure Analysis
• Modification and upgrade on gearbox
• Assembly
• Testing