On-board Inspection of a bow thruster in Dominican Republic
Challenge
A global leader in high quality shipmanagement invited stork gears & services asia pte ltd to carry out an inspection of a bow thruster on board their singaporean tanker vessel. The bow thruster was already dismounted from its tunnel because of oil leakage noticed by the crew. Since the shipyard could not supply any services or spares, the thruster was stored on board the vessel awaiting for further inspection and necessary repairs. During dry docking in dominican republic stork gears & services visited the tanker vessel for an inspection.
Solution
The project involved an inspection of the input and output shaft, the propeller hub and thruster housing. Below a summary of our inspection findings and pictures.



The inspection revealed corrosion marks at the input bevel gear pinion and severe pitting on the shaft flanks.




The bevel gear wheel showed corrosion pitting on the loaded flanks and on the propeller side it is axially worn at the location of the thrust bearing.



During inspection, severe axial grooves were noticed at the piston sealing surface of the propeller hub, probably caused by contact with the crosshead piston. The picture on the right shows the worn seal bush.

The bearing retainer of the output shaft suffered from a cracked o-ring rebate, which could lead to seawater entering the unit's casing (see the left picture below). The main housing showed heavy corrosive pitting in the output cover seal area.




In order to get the thruster back into its original condition our customer asked Stork Gears & Services to execute the recommended repair plan. Our engineers in Rotterdam are now undertaking a complete recondition of the thruster.
Benefit
A bow thruster is a transversal propulsion device built into, or mounted to, the bow of a ship to make it more maneuverable. Bow thrusters make docking easier, since they allow the captain to turn the vessel to port or starboard without using the main propulsion mechanism which requires some forward motion for turning.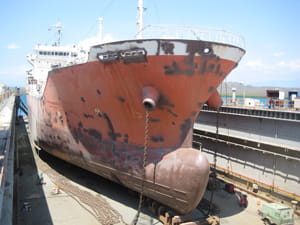 Location: Dominican Republic
Market segment: Shipping, Tanker vessel
Equipment: Bow Thruster, Hanshin-Kawasaki, type KT-55B1-26, Input power max 4440 kW