Preventive maintenance of deep suction dredger's gearbox reveals bearing damage
Information
Client
No name
Region
Kraaijenbergse Plassen, Cuijk, The Netherlands.
Industry
Upstream oil & gas
Associated capabilities
Challenge
Our client – a dredging company – wishes to have a preventive inspection of its equipment carried out, including vibration measurements to minimise equipment standstill. The client has commissioned Stork Diagnostic Services to carry out vibration measurements of the sand pump's gearbox with a view to determining its condition.
Gearbox vibration measurements
A CSI-branded portable spectrum analyser of type 2130 was used during the vibration measurements. The data obtained has been stored and may serve as a reference for possible future measurements.

An anomalous frequency peak was visible in one of the gearbox bearing measurements, surrounded by sidebands on the rotation frequency of one of the shafts. Additionally, an impact was visible in the time signal once per rotation. These results are characteristic of the initial stages of damage to or defects in the inner ring of the bearing.

The vibration levels were low. The recommendation from this inspection was to have the bearing in question visually inspected.
Visual inspection of the gearbox
An Everest XLGO-type videoscope from General Electric was used during the visual inspection of the bearing with the suspected fault. The inspection revealed a crack in the axial direction of the bearing. Around the centre of this crack the material had begun to crumble away.
The recommendation was to have the gearbox extracted and overhauled in order to avoid further damage. Our customer wished to have this work carried out during their planned standstill period, and requested that the bearing be inspected again in the intervening time in order to measure the progress of the damage.

Picture 1: The first inspection (left photo) and second videoscope inspection (right photo) revealed bearing damage at the inner ring
It transpired that the damage to the inner ring had not progressed any further since the previous inspection. It was expected that the equipment would remain functional until our customer's planned standstill period.
Gearbox overhaul
Stork Gears & Services extracted the gearbox on-site and transported it to their workplace. Following disassembly and comprehensive inspection of the gearbox, it transpired that a new gear would need to be manufactured due to an unsuitable drill-hole, and that a number of other drill-holes would need to be bored and laser-clad.

Once the damaged bearing had been removed, the damage could be viewed more closely. When viewed up-close without a videoscope, the damage looked like this (see picture 2).

Once all the inspection and repair work had been completed, the rebuilding process could begin (picture 3).
The final stage before the gearbox could be returned was the testing stage, where the gearbox must run successfully for four hours (picture 4). Lastly, the repaired gearbox was fitted on-site by Stork Gears & Services (picture 5).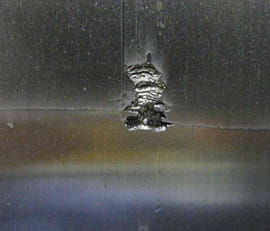 Picture 2: Inner ring bearing damage
Market segment: Dredging, cutter suction dredger, deep dredgers

Equipment: Sand pump installation at deep suction dredger. With a 375 kW jetpump engine, a 167 kW generator and a 25kW harbour generator set, the dredger has an an installed power of 2,319 kW. The deep suction dredger will be used to reconstruct the Kraaijenbergse Plassen in order to create islands and banks, among other things, for recreational purposes. The sand necessary for this will be accumulated from deepening the pool up to a maximum depth of 40 metres. During the bank reconstruction the surplus of sand from the pool will be shipped out for use in topping up the existing sand structures. The suction dredger will gather one million cubic metres of top-up sand per year. An area of over 100 hectares will be re-organised in total, making this one of the most large-scale land reconstruction projects in the Dutch polder waters.

Gearbox details: Gearbox brand: Schelde Rademakers; Gearbox type: CRC 900 Spec; Power: 1752 kW – S1; I = 3,628:1; Ingaand toerental: 1600 rpm