Vibration analysis parallel shaft gearbox - Oil & Gas industry
Information
Region
Europe
Industry
Associated capabilities
Challenge
Stork diagnostic services was invited by vermilion oil & gas netherlands b.v. to diagnose the root cause of increasing vibration levels on a parallel shaft gearbox.
Undesirable vibration alarms requested a thorough analysis. Previous measurements by other companies indicated a gearbox problem. The gearbox drives two gas compressors and is located on a gas producing plant at garijp in the northern part of the netherlands. Natural gas is used in the netherlands for cooking, for heating houses, in industry and for power generation. Approximately 50% of dutch daily energy needs are provided by natural gas. Natural gas is by far the cleanest fossil fuel. The groningen field is one of the largest in the world and has become a strategic deposit in managing the future energy needs of the country.
Benefit
MULTI-CHANNEL VIBRATION ANALYSIS
Protection on the gearbox consists of two accelerometers which are connected to a Bently Nevada rack. Four additional installed proximity probes were also connected in order to obtain more valuable data. To analyse the shaft vibration behaviour, an 8-channel ADRE-system was used during start-up and coast down of the machine train.
In addition, a portable analyser, type CSI 2130 was used to measure the gearbox casing vibration levels. The elevated casing levels did not correspond to the relatively low shaft vibration levels, recorded by the proximity probes. After considering several checks, the root cause appeared to be related to the skid foundation bolts, which were insufficiently tightened. After tightening these bolts, the casing vibration levels appeared to be reduced by approximately 50%.
VISUAL INSPECTION OF THE GEARS
The internal gears were also inspected visually, and different from initially expected, they still appeared to be in good condition. Except for exchanging one unreliable permanent acceleration sensor, no further action was required for the customer, qualifying this as a good example of the (cost) effective possibilities of a vibration analysis.
Stork Gears & Services - Diagnostic services was choosen because of its extensive knowledge of vibration measurements and vibration analysis. Stork Gears & Services is able to rapidly perform these measurements in any part of the world in order to detect and report machinery malfunctions of the customer's rotating equipment.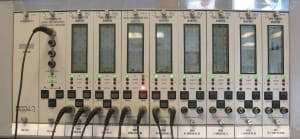 Location: Garijp, Friesland, Gas treatment plant
Market segment: Oil & Gas
Total completion time: 2 days
Scope of work:
• Visual inspection
• Vibration analysis
• Gearbox inspection report