On-site overhaul of azimuth thrusters at Turkish shipyard
A global leader in dredging and marine solution invited stork gear and services to carry out an overhaul of three azimuth thrusters of their fallpipe vessel.


This offshore vessel deposits stone accurately at great depths servicing Oil & Gas industries. During dry docking in Turkey Stork Gears & Services visited the dynamically positioned fallpipe vessel (DPFPV) for an inspection.
The complete overhaul was executed in less than 4 weeks at the shipyard's workshop.
Challenge
Purpose of the visit was the overhaul of Aquamaster unit type UL 2001 / 6600. The overhaul included:
renewal of bearings and seals
renewal of inner lifting piston
renewal of propeller shaft
seal modification around lifting cylinder outboard side
adjustments of bearings
adjustment of gears
An access was cut in the deck to enable the transport of the upper gearbox and slewing gear. Also the lower part and steering tube where transported to shipyard's workshop. Oil was drained into 3 clean 1000 liter containers and reused. All renewals and adjustments of bearings were performed in shipyards workshop.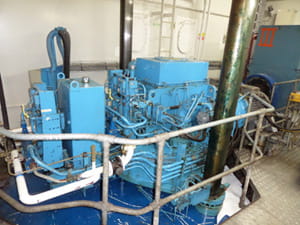 Upper gear in lower position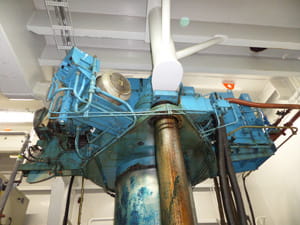 Upper gear in top position
Market segment: Shipping/ offshore
Dynamically positioned fallpipe vessel (DPFPV)

Equipment: Azimuth thusters (3 x 1,000 kW)

Azimuthing retractable thrusters: PType UL 2001 / 6600